Main content starts here, tab to start navigating
Slide 1 of 5
Slide 2 of 5
Slide 3 of 5
Slide 4 of 5
Slide 5 of 5
MN State Fair 2022 - New Vegan Items and More
In 2022 French Meadow Bakery & Cafe celebrates our 28th award-winning year at the Minnesota State Fair. In the tradition of our flagship restaurant in Minneapolis, but with a special State Fair twist, we offer fair-goers a variety of freshly baked, innovative, and organic indulgences, plus artisan refreshments and fair-trade Peoples Organic Coffee drinks, all of which can be enjoyed on our adjacent patio area.

A relied-upon first stop for our famous fresh fruit-stuffed hot scones -- the specialty that launched our State Fair business in 1994 and was named by food critic Rick Nelson of the Minneapolis Tribune as "deserving a place in the State Fair Hall of Fame" -- French Meadow is a mainstay ALL DAY at the fair for a wide range of delicious offerings, including our pioneering vegan and gluten-free specialties, along with delicious fare for traditional omnivores. Our fresh specialties are baked on-site, all day, every day!
FIND US AT 1703 CARNES AVENUE at UNDERWOOD STREET, across from WCCO and Ye Olde Mill.

WANT TO SEE IT ALL? VIEW OR DOWNLOAD FRENCH MEADOW FULL 2022 MN STATE FAIR MENU


MARK YOUR CALENDAR FOR THESE SPECIAL DAYS:

OPENING DAY, THURSDAY AUGUST 25:
Complimentary People's Organic regular coffee with any purchase

MILITARY APPRECIATION DAY, TUESDAY AUGUST 30:
Heirloom Tomato, Wild Acres Turkey & Bacon Croissant sandwich, $7 (regular price $14)
KIDS DAY, WEDNESDAY AUGUST 31:
Nana's Caramel Sundae Cake, $4 (regular price $7)
SENIORS DAY, THURSDAY SEPTEMBER 1:
Earth Sliders, $7 (regular price $14)
LABOR DAY, MONDAY SEPTEMBER 5:
Vegan "Meatballs" & Marinara Bowl, $7 (regular price$12)
OFFICIAL NEW FOODS at the 2022 STATE FAIR!
As the local OG of vegan and organic food, French Meadow is proud to announce that our two official new State Fair foods for 2022 are both vegan. (Not to brag, but there's a reason we were voted Best Vegan in Mpls St. Paul Magazine's recent Readers Poll!) And lest you think we stopped at only two, read on below to see many more new creations we're debuting at the fair this year.
EARTH SLIDERS
We hereby declare that vegans have WON the "chicken sandwich wars" with these plant-based mini delights. We've created a delectible crispy fried "chicken" -- marinated, battered, and fried to perfection -- and topped with house-made pickles spiced with turmeric, garlic, and onion, a spicy secret sauce, and shredded lettuce, served on grilled slider-size buns.


"MEAT" BALLS & MARINARA
Italian herb-seasoned "meat" balls, sautéed in our signature house-made garlic & oregano marinara sauce, topped with house-made (of course!), plant-based Parmesan "cheese" and fresh parsley, served with a warm, grilled slice of French Meadow's famous sourdough bread, so you can soak up every last bit of that sauce.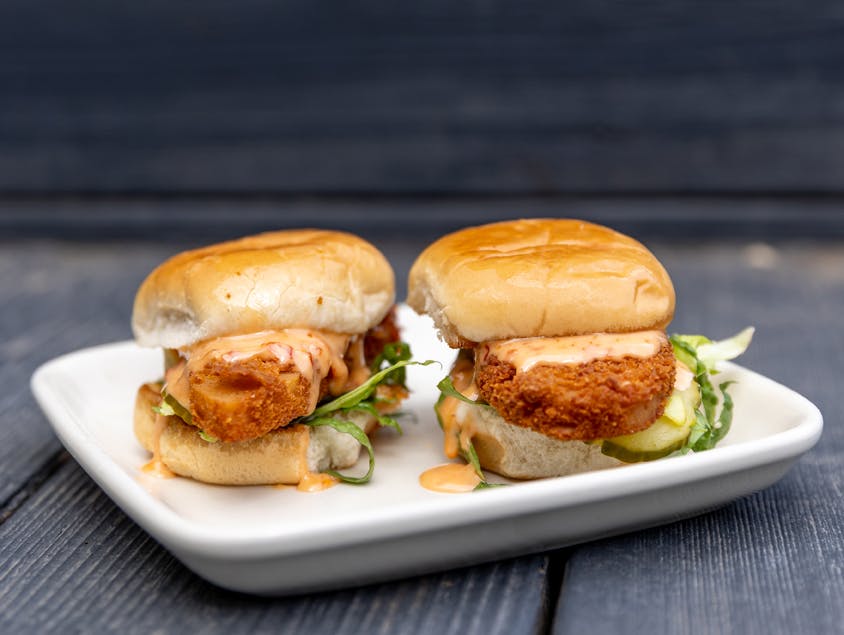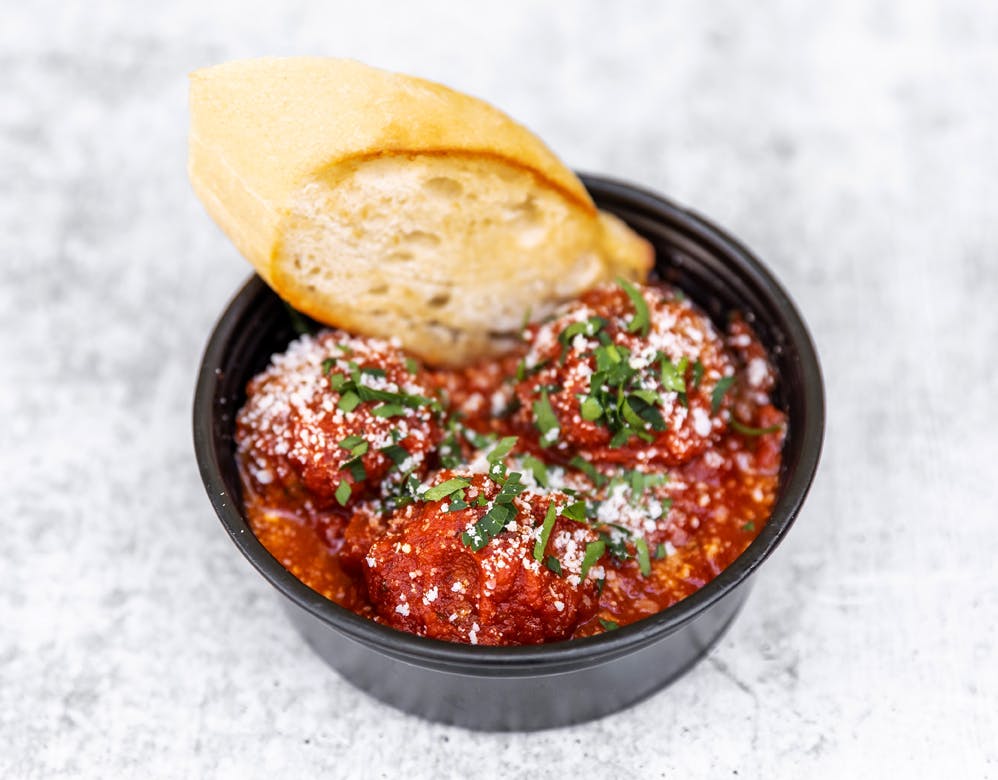 MORE NEW FOOD & DRINKS at the 2022 MN State Fair
CINNAMON TWIST - all-butter croissant-roll rolled up in cinnamon and vanilla pastry cream, with cardamon syrup and icing. Tip: this is not for sharing, because you'll want it all for yourself. Really.
NANA'S CARAMEL SUNDAE CAKE - sticky apple spice cake served in a bowl with house-made vegan caramel sauce. It's GLUTEN-FREE & dairy-free!
CHOCOLATTA BANANA SCONE - newest plant-based variety of our famous scones! Chocolate, moist banana, vegan -- need we say more? VEGAN!!
NITRO COLD-BREWED PEOPLE'S ORGANIC COFFEE ON TAP - creamy, rich, and topped with thick foam, like a refreshing, caffeinated Guinness
BOOTLEG FRAPPE - must taste to believe! An icy limeade slush infused with honey and mint. VEGAN!!
JALAPENO CUCUMBER & HONEY LIMEADE - our thirst-quenching limeade with a jalapeno kick
Hungry yet? Thirsty? We'll see you at the fair beginning Thursday, August 25. It'll be worth the wait. We promise.
Slide 1 of 9
Slide 2 of 9
Slide 3 of 9
Slide 4 of 9
Slide 5 of 9
Slide 6 of 9
Slide 7 of 9
Slide 8 of 9
Slide 9 of 9