Earth Wings are Coming to the State Fair!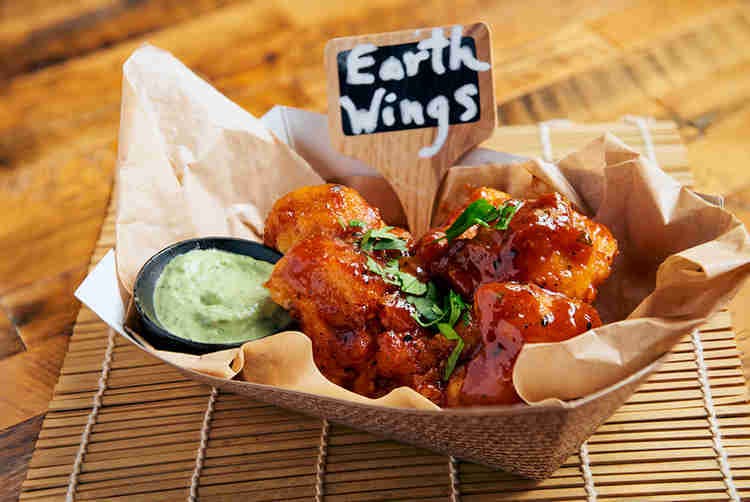 Aug 17, 2018
Since 1996 French Meadow Bakery & Café has earned a loyal following among Minnesota State Fair-goers by offering natural, unique food options that are also deliciously indulgent. This year we step up the game with our newest creation, Earth Wings®, as a featured new food on our fair menu.
Already a hit appetizer at our Minneapolis and St. Paul flagship restaurants, Earth Wings® are made with fresh cauliflower pieces ("wings"), dipped in our signature seasoned batter, deep-fried to perfection, and smothered in organic sesame BBQ sauce. The savory, meaty texture will satisfy even dedicated meat lovers, yet they are both vegan and gluten-free. They go perfectly with our Infused Cucumber Iced Lemonade – made with Minnesota-grown cucumbers and Meyer lemons -- a refreshing fan favorite over the last few years.
French Meadow also is offering State Fair visitors a Gluten-Free Rustic Sandwiches, created to further deliver on our commitment to offer delicious gluten-free options.
As always, we have a full variety of our famous gluten-free, dairy-free, and vegan baked goods – all made from scratch on-site -- including cupcakes, muffins, cookies, bars, & brownies. Fair-goers looking for last year's big hit, our Gluten-Free Mini Sconuts filled with Nutella hazelnut chocolate, dark chocolate & marshmallows topped with a dusting of powdered sugar, will be happy to see them on the menu again.
We also offer a variety of our traditional scones & croissants including our Signature Scone: Split open warm, filled with fresh peaches or strawberries, and topped with our homemade Sweet Cream Cheese Topping, they're like shortcake, only better. Our grill has several made-to-order sandwiches plus our Gluten-Free Risotto Poppers, served with house-made chipotle sour cream.
Our Espresso Bar serves People's Organic coffee and fresh brewed teas, all roasted in Minnesota, along with other sweet drinks. Specialty non-dairy milks are available: almond, hemp, soy, oat, and coconut. French Meadow Bakery & Café remains committed to serving only fresh, natural, healthy, delicious foods to our Minnesota State Fair visitors. All menu items are made on-site, from scratch. We offer seating indoors and on our large patio. We're located at 1703 Carne Avenue, across from Ye Olde Mill.
THE MINNESOTA STATE FAIR RUNS AUGUST 23 though SEPTEMBER 3, 2018