State Fair Favorites Come to French Meadow Lyndale for a Limited Time!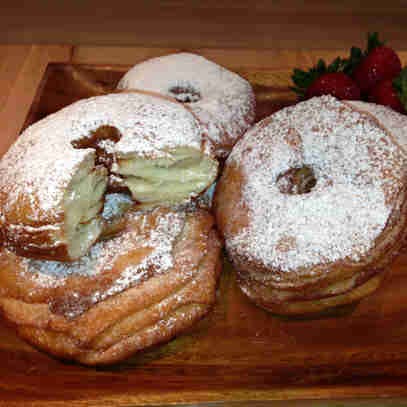 Aug 31, 2020
Updated: Oct 6, 2020
The State Fair in Minnesota may be canceled for 2020, but you can still get your French Meadow state fair food fix at our Lyndale Avenue restaurant through October 11 only, with special menu offerings of some of the classic favorites known and loved at our annual State Fairgrounds outpost.
At the head of the list is French Meadow's signature fair offering -- the one that launched French Meadow's state fair concession at our original humble location in the fair's food building 26 years ago -- the tender Buttermilk Strawberry-Filled Scone with sweet cream cheese topping. The fair food French Meadow is most famous for, one that's made our State Fair concession a must-stop destination.
Long-time fair-goers will rejoice to see the return of the Dough-Sant (TM), a creamy, flaky confection that was wildly popular from its launch in 2013 through its retirement from the menu in 2017. This cross between our famous croissants and a donut deep-fried and coated in powdered sugar, was an immediate mega-hit. That year, James Beard Award-winning food critic Dara Moskowitz Grumdahl, writing on Mpls St. Paul Magazine, called it the best of the "newbie" foods for 2013, "...a humdinger of a tongue-tickler. The exterior is ultra-crisp flakes of dough, the interior is so tender it's almost creamy, the powdered sugar adds a little State Fair decadence."
Also on the menu: One of French Meadow's many gluten-free vegetarian fair favorites, Risotto Poppers with chipotle sour cream dipping sauce, is a delectable savory treat, crispy flash-fried balls of tender rice, cheddar, and black beans. And our famous Earth Wings, both gluten-free and vegan, are the one State Fair food that is always on the menu at our flagship restaurant on Lyndale.